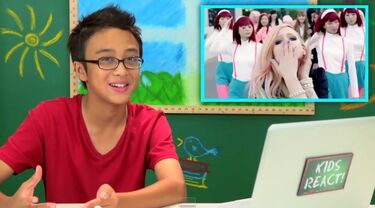 Dylan Djoenadi
One of the kids of 'Kids React', a show in YouTube by the Fine Brothers, known for showing kids viral videos and documenting their reactions. He has appeared in more than 100+ Episodes, making him the second most featured reactor, only behind Morgan.
Along with Morgan and Lia, he's been on the show since the first episode of the franchise, "Kids React to Viral Videos #1." Of the three, he's the first to appear, and the second overall. Only Amber, who left quickly, beats him.
Dylan Djoenadi is known for being a happy person. 
- He is Indonesian (as stated in the bonus episode from Kids React to Hatsune Miku, when Dylan says, "Some people think I'm Japanese, but I'm not Japanese!" then the Fine brothers asked, "What are you?" and Dylan said, "I'm Indonesian. Now, you people who call me Japanese, NOW YOU KNOW.")
- Speaks Chinese, Indonesian and English
- Plays the violin 
- Lives in California Edit Smosh React to Dylan like this...
Now that Dylan has turned 14 years old and and made his first appearance on Teens React to Justin Bieber - What Do You Mean?